What is your opinion on Vietnamese girls
Kim Phuc: "I thought I'd be ugly now"
The photo went around the world: people are fleeing from the sea of ​​flames that is reducing their village to rubble and ashes. One of the refugees: a naked girl with burned skin. It's nine-year-old Phan Thi Kim Phuc.
The photographer Nick Ut takes the injured children in the photo to a hospital in Saigon; Kim Phuc barely survives with severe burns. As a young woman, she is tracked down by the communist regime in Vietnam, which she uses for state propaganda. In 1992 she escaped from state power: On a flight from Cuba to Russia, Kim Phuc and her husband left the plane during a stopover in Canada and were granted political asylum. In 1997 she became a Canadian citizen and founded the Kim Phuc Foundation - a foundation that offers medical and psychological help to children who were traumatized by the war. Now she has been awarded the "Dresden Prize" for her work.
Her nickname Kim Phuc means "golden luck", says the 55-year-old, and she can now identify with this name.
DW: Kim Phuc, do you remember the first time you saw that photo?
Phan Thi Kim Phuc: Yes, I remember very well. It was when I got home from the hospital. I was very ashamed. Why was I naked and my brothers and cousins ​​were wearing clothes? My face was so ugly, so desperate, I cried ... As a child, I found the picture so ugly. I didn't like it at all.
When did that change?
As you get older. And ten years later I realized what a huge impact this image had on people. I wasn't ashamed anymore, but it didn't mean too much to me until I became a mother myself. With my son in my arms, I looked at the picture and thought: No child in the world should suffer such suffering as this little girl. From that moment on, the image gave me strength. When it was recorded, I had no choice. Now I am free, I have a choice, and this image made me stand up for peace.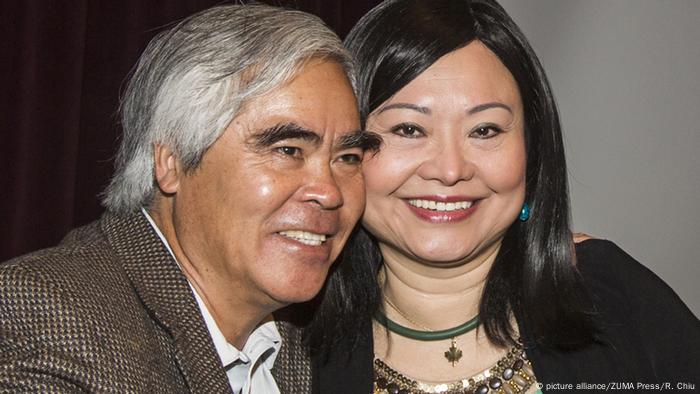 Kim Phuc with photographer and Pulitzer Prize winner Nick Ut in Los Angeles in 1994
"I saw four bombs fall and then there was fire everywhere"
How do you remember the moment the picture was taken?
I had just turned nine. Summer lay ahead of us and fourth grade ahead of me. When my parents learned that the war was going to reach our village, we took refuge in the temple and hid there for three days. As we were about to have lunch, a soldier came and shouted to run. But I stopped dead in front of the temple. Then everything happened incredibly quickly: I saw four bombs fall, and then there was fire all over the place. It burned my clothes and I saw it burn my left arm. And I remember, I thought I was going to be ugly now.
Then fear seized me and I started to run. It wasn't until I got out of the flames that I saw my brothers, my cousin, and a couple of soldiers, and I ran until I collapsed from exhaustion. A soldier gave me some water, poured water on me, and then I passed out. And that moment - mainly because of the photo - changed my life forever.
How did that change your life?
My skin will never be the same again. I am in great pain. As a child I cried a lot because of it. I stayed in the hospital for 14 months, during which time I had 16 operations. Later I had another operation, in Germany, to increase the mobility of the skin. I lost my childhood, missed a whole school year. I caught up with that later (laughs), but I was traumatized, I often had nightmares. And we lost everything in the attack: we really only survived.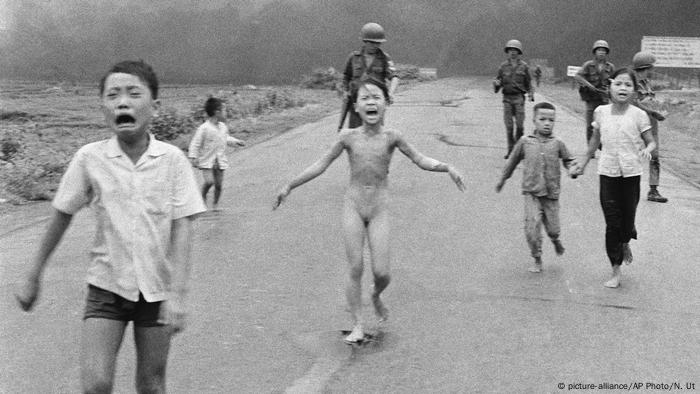 The photo "The Terror of War" by photographer Nick Ut from June 8, 1972 was voted "Press Photo of the Year"
"This is the second time I have fallen victim to a power"
Did you feel like a victim?
I didn't think about it much as a kid, but I did later. I see my scars every day, I have to deal with the pain. But I'm not just a victim of the war. When the Vietnamese government discovered me, they started using me for their propaganda: I could no longer go to school, no longer pursue my dreams, I was under permanent control. This is the second time I have fallen victim to a power. But that is precisely why I am so grateful for what I have today: Because I went through the war, I know the value of peace. And I appreciate him.
When did you regain control of your life?
When I am free I have a choice. As a kid I had dreams, big dreams. And it was difficult to keep these dreams alive for a long time. When I stayed in Canada, I knew I was doing the right thing. And now I am free. I am very grateful for that.
"I can tell these children: I was where you are now"
Now you are helping children who fell victim to war. Why is this so important to you?
I was one of the millions of children who fall victim to war. And I'm so grateful that I've been given a future! And I thank God that I'm still alive. And I don't live in sorrow, bitterness or hatred, but with the love of the people who surround me. You inspire me and I now have the opportunity to give something back. I can say to these children: I was where you are now and I want to help you. When you speak of pain, I understand you, when you speak of hatred and violence, I understand you. What you need is peace and joy. And I don't do this out of a duty, but because I really care about them.
When you look at the world today, do you think things are getting better or do you see more cause for concern?
I am very happy that so many people are doing so much, but there is still a lot more to be done.
We always have the hope of making this world a better place. And my message is: If everyone learns to live with love, hope and forgiveness, then we no longer need war. And if the little girl in the picture can do it, then anyone can.
The Dresden Prize is an international peace prize that has been awarded every year since 2010 on the anniversary of the bombing of Dresden on February 13, 1945. The prize is endowed with 10,000 euros. The award explanation for Kim Phuc says: "We live in times in which hatred is rampant. But again and again it is precisely the victims of violence and war who refuse to accept hatred. They show human greatness that puts all hate preachers to shame Just like Kim Phuc Phan Thi does and has become a global role model. "
Gönna Ketels conducted the interview in English. German adaptation: Jan D. Walter